473 East Maxwell Street
Lexington, KY
$1,300.00

or $650.00 per roommate per month per month for a complete one-story house with off-the-street-parking in the rear of the house. Apply for this Property

Historic three bedroom, one bath home with a fenced in front yard. Three blocks from UK off just Woodland Avenue. One block to Woodland Park with the park's tennis courts, skate park, softball fields and swimming pool. A short bike ride/walk straight up Woodland Ave (3 blocks) to the University of Kentucky William T. Young Main Library.

This student house is located right down the street from the brand new $22 million dollar 86,000 sq.foot Kroger Supermarket and shopping/banking in Chevy Chase.

Walk just 4 blocks down Euclid Ave to Singletary Center main bus stop for Blue and Yellow CATS routes (Campus Area Transit System).

Property features
Three bedroom, one bathroom house (great for guys, only one full bath)
$1,300.00 per month or $650.00 per roommate + personal electric, water, and natural gas
12-month lease required August 2019 through July 2020
Beautiful varnished hardwood oak floors throughout the house
Frost-free refrigerator, stove/oven
Full-size clothes washer and dryer included
Central heat and central air conditioning
Private parking at your back door for three cars
Dead-bolt locks on front and back entry doors
Mini-blinds on all the windows
Insulated storm windows
Dusk-to-dawn security lights light up the parking area at night
Two wood-burning fireplaces in the house
Covered front porch
Small, fenced-in front yard
Woof/Meow! Small dogs and cats are allowed in this house. Dog run located one block away at Woodland Park.
This house is on the SAFE SIDE of campus - UK Police Headquarters four blocks away at corner of Euclid Ave. and Rose Street
Lextran city bus Cats Cruiser stop #9 on the Green Line one block to the corner of Woodland and Euclid.
Property Photos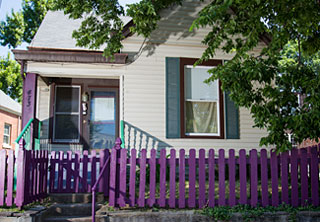 View Larger Map